Description
HIFU (High Intensity Focused Ultrasound) uses the focused ultrasound technology to treat the designated subcutaneous area called superficial tendon membrane system (SMAS) with the non-invasive method.The ultrasound has massage effect on the cells and make the subcutaneous tissue generate transient heating to stimulate collagen regrow. This kind of thermal effect will not hurt the epidermis and surrounding tissue as the short treatment time 0.5 seconds.
What is SMAS?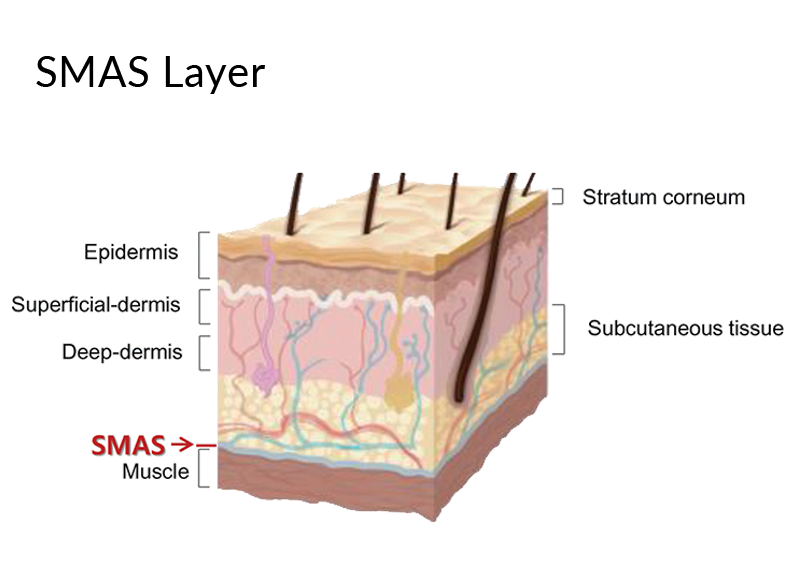 Superficial muscular aponeurotic system (SMAS) is an area of musculature of the face. This muscular system is manipulated during facial cosmetic surgery, especially rhytidectomy. The SMAS extends from the platysma to the galea aponeurotica and is continuous with temporoparietal fascia and galea. It connects to the dermis via vertical septa.
The real reason of skin aging – SMAS sagging!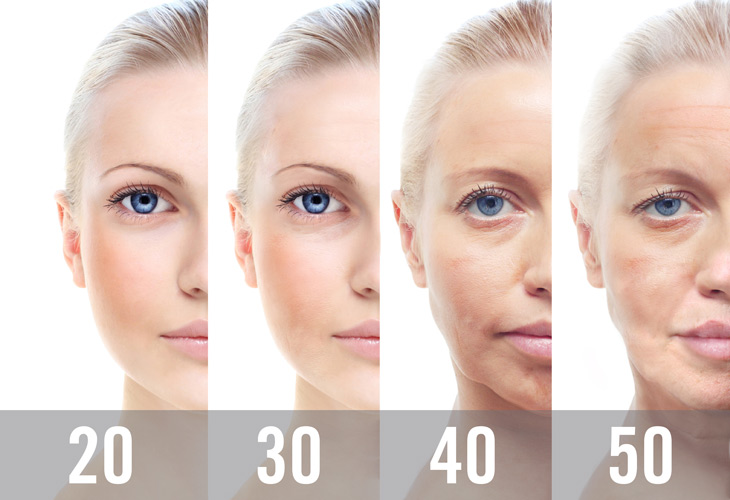 | | | |
| --- | --- | --- |
| 30 Years Mild Aging | 40 Years Moderate Aging | 50 Years Heavy Aging |
| The wrinkle is obviously, the face skin becomes rough, dim and not youthful. The aging of skin speeds up. The cell and the operation of recycling system become aged and slow. | The wrinkle expose and the abundant expression lead to the skin of corners of the mouth, eyes and nose. The face skin becomes unwanted. The operation of recycling system becomes slow. | The wrinkle expands to the wholesale face and the skin looks very dim and unwanted. You can see the aging skin and the cell recycling and rebuild system seriously are so weak. |
Hifu Beauty Machine Features
1. High Treatment Depth
The treatment depth of hifu ultrasound beauty machine can be as deep as 3.0mm-4.5mm, it can treat the deeper area of SMAS but not just fibrous septum. Treating the SMAS layer is the important key of face lift.
2. Personalized Probes
There are 3 different cartridges of the hifu beauty instrument, they can act on epidermis, dermis and SMAS layer respectively. According to situation of the face and the trends of aging of each person, the beautician will do personalized treatment with choosing different cartridge.
3. Optimum Temperature
The treatment temperature is around 60-70 degree which is the most suitable temperature for collagen denaturation, it makes the collagen regrow and rearrange. The epidermis will not be hurt as thermal generates at the SMAS layer directly.
4. Precise Positioning
The Hifu ultrasound machine use the way of focused ultrasound positioning, the energy act on the treatment position precisely so as to not hurt the normal skin.
Hifu Machine Beauty Effect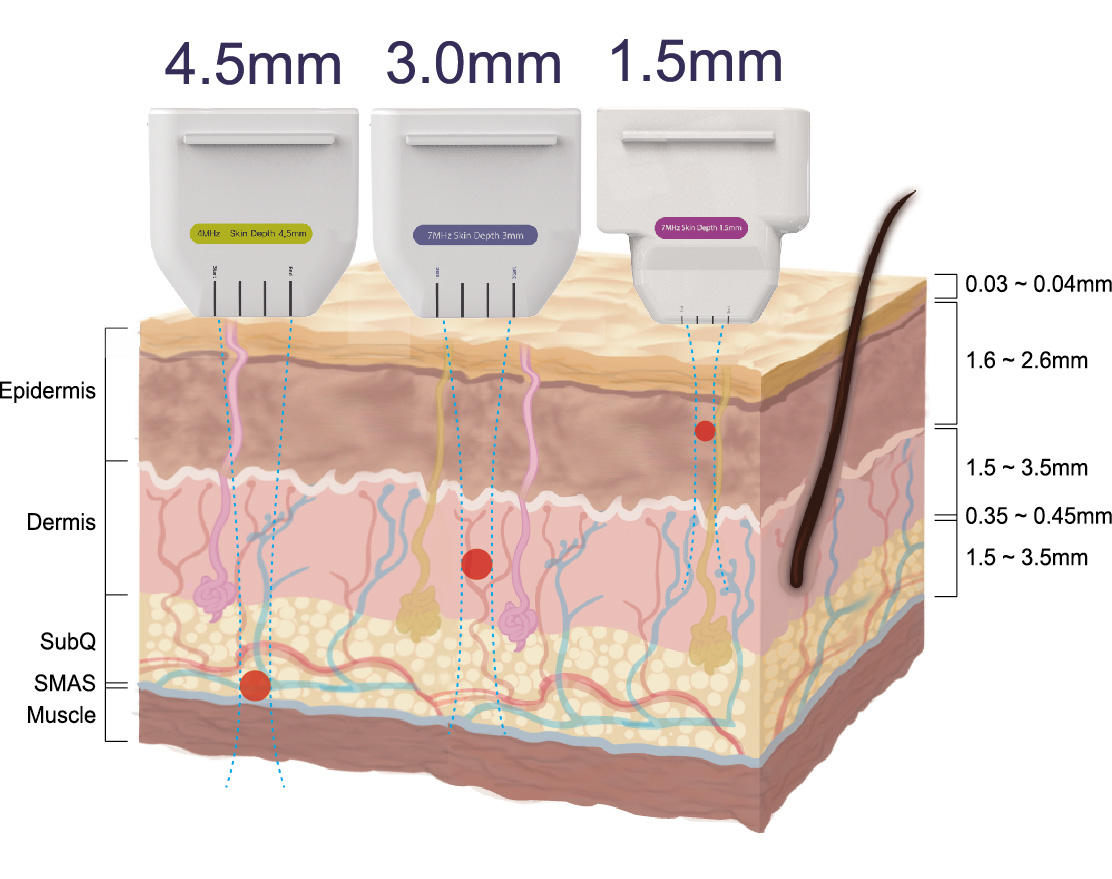 1. Skin Tightening
The most advanced hifu skin tightening technology of the world, can lift and tighten the skin.
2. Collagen Regrow
The energy generate the thermal under the subcutaneous tissue to make the collagen regrow, lift the flabby contour.
3. Face Lift
HIfu face lifting for lineament.
4. Skin Rejuvenation
Improve the problems of skin dull and rough, show the young beauty.
5. Exquisite
To make the skin delicate and shiny, achieve the effect of returning younger.