Description
The Optimal Pulse Technology (OPT) offers a non-invasive, fast and comfortable treatment alternative. OPT Machine is based on Intense Pulsed Light technology, which is a kind of high-energy, wide wavelength light, in the range of 530nm to 1200nm. The light energy is converted into thermal energy, which causes damage to the target cell. Pulsed light systems are different from lasers in that they offer many wavelengths (or colors) in each pulse of light.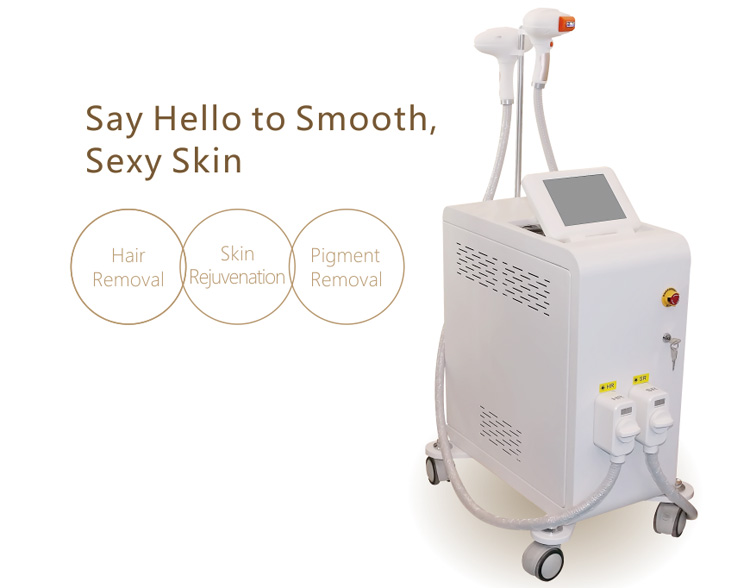 Application of OPT Hair Removal Machine
Skin rejuvenation and skin whitening for the whole body.
Stretch marks, forehead wrinkles, crow's feet, nasal furrow wrinkles, neck wrinkle.
Painless and permanent hair removal.
Freckle/chloasma/age pigment/sunburn/chorioplaque removal, eliminating chromatosis.
Anaphylatic pox, acne, acne scar, blackhead.
Red face, red blood streak, acne resacea, etc.
Specification of IPL SHR OPT Machine
| | |
| --- | --- |
| Model | E70 |
| Wavelength | 530/640-1200(nm) |
| Spot size | 10*50mm(Selective 15*50mm 50*70mm) |
| Handle | One handle / Two Hanldes |
| Cooling system | semiconductor+air+water+cooling gel |
| IPL light energy | 1-50(J/cm²) |
| Ipl Lamp | UK-imported IPL Lamp |
| Span Time of lamp | 80.000 shots |
| Pulse Duration | 1-10ms |
| Pulse NO. | 1-6 |
| Skin cooling | -4°c-10°c |
| Display | 8″color touch screen |
| Output power | 1500W |
| SHR width | 1-10ms |
| SHR frequency | 1-10HZ |
| Voltage | 110V,60HZ or 220V,50HZ |
| Package size | L99*W63*H77cm |
| Weight | 55kgs |
More Photos